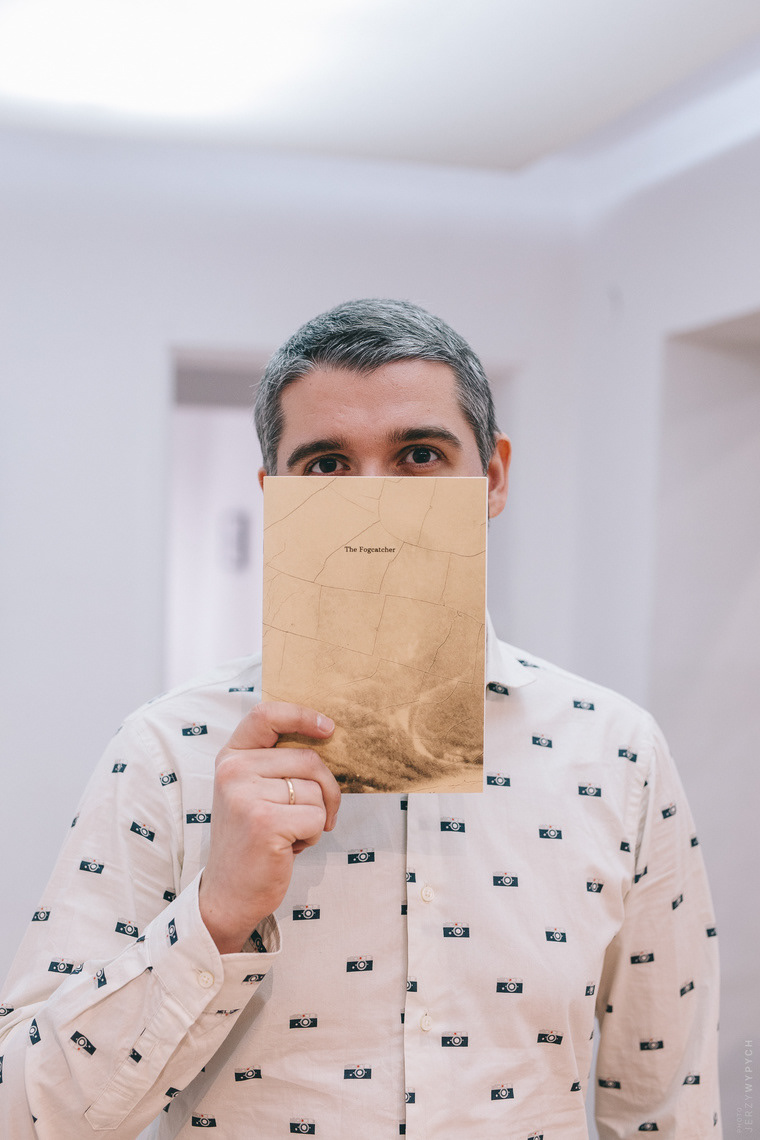 Krzysztof Światły
(1988, Wrocław) is a visual artist, photographer, translator and writer, member of Enough Photos association. He used to work as a music journalist for Polish Radio and main Polish newspapers and after graduating from the Institute of Slavic Studies at the University of Wrocław he began to work as a translator. He studied photography at OPT under Filip Zawada, Krzysztof Solarewicz and Arnau Vidal Cascalló. In 2016 his work 
Voyager Golden Heartbreak
 was exhibited as part of the group exhibition "On the road" at TIFF Festival. The same year he self-published his first dummy 
Closer

(now part of Archivo collection in Porto, Portugal).
 From 2018 he has been working on his project 
Paradise Rivers
 with Sputnik Photos. In 2019 he had two solo exhibition - 
The Fogcatcher
 in Tętno gallery in Wrocław accompanied by a zine published by 8991publishing and 
Paradise Rivers
 at Fotofestiwal Łódź. In August his project 
Wavelength
 curated by Rafał Milach and Ania Nałęcka-Milach was exhibited in Italy. In his work Światły explores themes such as language, visual memory and time, photography itself, myths, socio-ecological issues, bonds and desire. Currently he published his new zine
Speedometer Jukebox Winter Count
and he is working on his book 
Paradise Rivers Are Drying Up on Earth
 with Ania Nałęcka-Milach.
09/2020 -
Paradise Rivers Are Drying Up on Earth

shortlisted for Kassel dummy award 2020
04/2020 -
Speedometer Jukebox Winter Count
from 12/2019 onwards - Witches Archives, ongoing project
2019/2020 - 
Almost Nothing Need Be Said
 - School of Looking project
10/2019 - The Skin I Live In, group exhibition, Macondo, Wrocław
06/2019 - 
Paradise Rivers Are Drying Up on Earth
, Fotofestiwal Łódź, solo exhibition
03-08/2019 - 
Wavelength
 project - SÅM Lessinia artist residency, Verona / Bosco Chiesanuova, Italy
03-04/2019 - Ferment twórczy, vol. I, group exhibition, Galeria u Agatki, Wrocław
03/2019 - 
The Fogcatcher
, solo exhibition and zine, Tętno Gallery, Wrocław
2019 - Sputnik Photos book no. 7
2019 - Stan posiadania, group exhibitions, Galeria UL, Gdańsk / Photo Fringe Kraków / Fundacja Archeologii Fotografii, Warsaw
2019-20 - Szkoła patrzenia (The School of Looking), Instytut Fotografii Fort, Warsaw
2017-18 - Sputnik Photos Mentoring Programme, Warsaw
2017-18 - Fab Lab vol. I & II, TIFF Center, Wrocław
2016 - 
Voyager Golden Heartbreak
, group exhibition "On the road", TIFF Festival, Wrocław
2016 - photobook dummy 
Closer
, self-published
2012-15 - photography Studies at Ośrodek Postaw Twórczych, Wrocław
krzysztof.swiatly [at] gmail.com